Brief Snapshots of African American History in St. Louis
Slavery in St. Louis
The first slaves that were brought to the area in 1719 were owned by Philippe Renault. They were from the French colony of Haiti on the island of Santo Domingo. Those 500 slaves worked in the lead mines that were located just west of Sainte Genevieve Missouri.
In 1772, one of the first counts of the number of slaves living in St. Louis City and County puts the total population at 198, both male and female. By the time the US takes possession of St. Louis in 1804 with the Louisiana Purchase, the total number of slaves had increased to 1,497. Right before the Civil War, the 1860 St. Louis City and County census puts the number of slaves at 4,340.
Slavery was abolished in 1863 with Lincoln's Emancipation Proclamation, but at that time, only in the Southern slave-states that had joined the Confederacy. Freedom for the slaves in those states took place as the Union troops advanced and took control. In the Union slave states, such as Missouri, slaves were freed by each individual state or eventually by the 13th Amendment to the US Constitution. Slavery in Missouri was not abolished until Missouri Governor Thomas C. Fletcher's emancipation proclamation was approved by the pro-Union Missouri Constitutional Convention on July 6, 1864. It took effect on Saturday, January 14, 1865. The Thirteenth Amendment to the US Constitution became law in December 1865 and banned slavery in all US States and territories.
The Dred Scott Case
The Dred Scott Case, a legal case that would become influential in leading to the Civil War, began in St. Louis in 1846 and, through many appeals, would not end until 1857 at the United States Supreme Court. The slave, Dred Scott, and his wife Harriet Scott filed a suit for their freedom in the St. Louis Circuit Court located in what is now known as the Old Courthouse in Downtown St. Louis. A long standing Missouri statute stated that any person, black or white, held in wrongful enslavement could sue for freedom. Dred Scott's suit was routine and, like any of the hundreds of cases that had gone before, his suit should have gained his and his wife's freedom. Scott's evidence for his freedom was that he and his wife had been taken out of a slave state by their owner and into a free state and into a free territory, and had lived there for long periods of time. Thus, per Missouri statue, slaves who were taken to such areas were freed, even if they returned to Missouri. "Once free, always free" was the judicial standard.
Dred Scott's Lawyer - Roswell Martin Field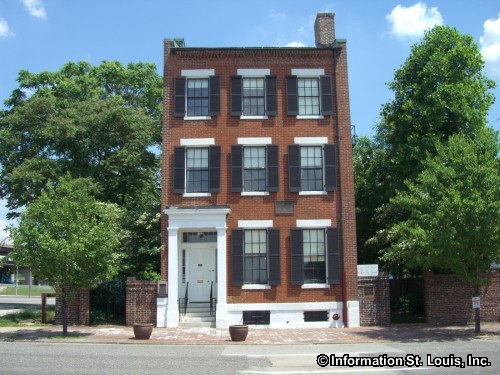 One of the many lawyers who worked on the case was a prominent St. Louis attorney, Roswell Martin Field. He lived in the city of St. Louis, not far from the courthouse, in a townhouse in what was known as "Walsh's Row". Roswell Field was the father of Eugene Field who is known as the "children's poet". Their home is now the only townhouse left of "Walsh's Row" and is known as the Eugene Field House. Roswell Field's involvement was for the purpose of taking the case before the United States Supreme Court to obtain a final decision on the question "Did residence in a free state or territory permanently free a slave?" On March 6, 1857, the final decision of the then pro-slavery chief justices denied Dred and Harriett Scott their freedom. This decision not only shocked the anti-slavery population of the nation, but because of the decision's obvious bias, intensified the anti-South feelings, as well.
Freedom for Dred and Harriett Scott
Ultimately, the Scott family did gain their freedom when it became an embarrassment to their owner, Irene Emerson Chaffee, who was by then married to her second husband, Massachusetts congressman and outspoken abolitionist, Dr. Calvin Chaffee. Mrs. Chaffee transferred ownership of the Scotts to Taylor Blow of St. Louis, who then emancipated them on May 26, 1957. Dred Scott died shortly there after in 1858 and is buried in Calvary Cemetery. Harriett Scott lived until 1876 and is buried in Greenwood Cemetery in North St. Louis County.
The Underground Railroad in St. Louis
The Underground Railroad was in operation for many years before and during the Civil War. Alton's Mississippi riverfront location in "free" Illinois, made it ideal for helping slaves escape to freedom from the slave state of Missouri and others in the south. Abolitionists and free blacks were "conductors" that helped slaves get from one "station" to the next. In fact, many slaves who gained their freedom by escaping to Illinois ended up in the African American community of Rocky Fork near Godfrey Illinois. Today, all that is left of the community is the Rocky Fork New Bethel AME Church that was founded in 1863 and is a site on the National Park Service Underground Railroad Network to Freedom program.
Although the Underground Railroad's activities were secret in nature and are now hard to document, several sites in Alton and the surrounding area have connections to the Underground Railroad and can still be seen today. Along the Mississippi River bank, just north of the Merchant Bridge in St. Louis Missouri, the Mary Meachum Freedom Crossing is located, and is the site of one of the few documented Underground Railroad events in the United States. It is the site where Mary Meachum, a freed slave, was caught helping other slaves from St. Louis cross over the Mississippi River to gain their freedom in Illinois. It is also a site on National Park Service Underground Railroad Network to Freedom program. The Cheney Mansion, today the location of the Jersey County Historical Society in Jerseyville Illinois, was another stop on the Underground Railroad. The Lewis and Clark Community College Campus is said to have tunnels existing under the campus buildings that were used by conductors to aid slaves in gaining their freedom.
Elijah P. Lovejoy, Abolitionist
The Old Rock House in Alton was also a station on the Underground Railroad and it was where the Anti-Slavery Society was founded by Elijah P. Lovejoy, an abolitionist and martyr for the causes of freedom of speech and freedom from slavery. It can still be seen on College Avenue, across the street from the College Avenue Presbyterian Church where Lovejoy was the minister. The Elijah P. Lovejoy Monument is located in the Alton Cemetery and honors Elijah Lovejoy for his stand for freedom. Lyman Trumbull, a US Senator and friend to Abraham Lincoln, wrote the 13th Amendment which abolished slavery in America. His home can still be seen in Alton on Henry Street. The Alton Museum of History and Art has an exhibit featuring the Underground Railroad and displays a "message quilt" and another exhibit that features Elijah Lovejoy's printshop.
St. Louis Offers a New Life
After the Civil War, former slaves migrated to St. Louis. Many of them left the South because of fear of Reconstruction and the activities of the Klu Klux Klan, not knowing if once the US troops left the South, would they remain free or be forced to return to slavery. They came to St. Louis looking for jobs in the factories or clay and coal mines or as a stop on their way further west. When they arrived in St. Louis they had few possessions, if any, so the local black community leaders helped them to find housing in St. Louis or transportation to go further west to settle in Kansas.
Mill Creek Valley, Sumner and Vashon High Schools
The area of St. Louis that was called Mill Creek Valley was populated predominately by African Americans. When the large migration of poor blacks came from the South, they settled in Mill Creek. By 1900, it was a self-sustaining community providing housing, places of worship, and shops for it's residents. It was also close to places of employment in the city and the first Sumner High School was located there. Sumner High School was founded in 1875 and was the first public high school for black students west of the Mississippi River. The high school was originally located on 11th Street between Spruce and what is now Interstate 64 but was eventually relocated in 1908 to the Ville neighborhood on Cottage in Midtown St. Louis. Because segregation laws were still in effect and Sumner High School had become over crowded, there arose a need for another high school for black students.
Vashon High School, founded in 1927, became the second public high school built for black students in St. Louis and was located in Mill Creek Valley. During the 1950's, this residential area of Mill Creek was targeted for renewal and was torn down to make room for office and industrial buildings. This displaced thousands of families. Harris-Stowe College now owns the original Vashon High School building and the current Vashon High School building, located in Midtown in the JeffVanderLou Neighborhood, was built in 2002.
The Annie Malone Children's Home
The Annie Malone Children and Family Service Center was founded in 1888 by Sarah Cochran. Sarah Cochran, with the help of other African American women in the community, created a home to care for orphans and neglected children. It was originally called the St Louis Colored Orphans Home but was renamed to honor Annie Turnbo Pope Malone who gave a financial gift in 1922 to build a new building at its present location. Annie Malone was a very successful African American businesswoman who invented hair care products specifically formulated for African American hair. She and her products were so successful that in 1917 she opened Poro College in St. Louis, the first of its kind that specialized in studying and teaching black cosmetology. The Annie Malone Children and Family Service Center continues to play an important part in the Ville Neighborhood by providing many services to the entire community, as well as to children.
Baseball and the Negro National League
As baseball became a National pastime in the early twentieth century, it did so for the African American community, as well. African American players were banned from playing on the major leagues. This would remain true up until 1947 when Jackie Robinson played for the Brooklyn Dodgers. So in 1920, Rube Foster, pitcher for the Chicago American Giants, formed the Negro National League. St. Louis had a team in the league called the St. Louis Giants. Later, when ownership changed, the name was changed to the St. Louis Stars when the team began to play in Star Park, a baseball field built specifically for the Negro League located at the intersection of Compton and Laclede in the Mill Creek area. The Stars played baseball as a team from 1922 to 1931 and won three pennants in the four years from 1928 to 1931. In 1930 lights were installed in the park so games could be played at night. The Negro National League had lights for night time play 5 years before the other two major leagues. One of the great baseball players of the twentieth century played for the St Louis Stars and that was outfielder James "Cool Papa" Bell. Bell was inducted into the Baseball Hall of Fame and St. Louis named a street after him.
Ragtime, Scott Joplin and St. Louis
Scott Joplin came to St. Louis in 1900 with his wife Belle. He lived just several blocks north of Mill Creek in a brick flat on Delmar Boulevard. He moved here from Sedalia Missouri where he had earned a degree in music from the George R. Smith College for Negroes. While in Sedalia he had learned the art of syncopated rhythms in music. Syncopation is an inherent characteristic in ragtime music that Scott Joplin went on to become famous for. His first hit ragtime song was "Maple Leaf Rag" which became know nationally. While in St. Louis, he composed some of his more famous songs "The Entertainer", "Elite Syncopations", "March Majestic" and "Ragtime Dance". He performed in many of the nightclubs, theaters and saloons that once were numerous in Mill Creek. In 1904, in an effort to better promote his music, Scott Joplin moved to New York City.
Thomas Milton Turpin was also a ragtime composer and owned a saloon in St. Louis were Scott Joplin more than likely, entertained the crowds. Thomas' father, Thomas "Honest John" Turpin owned the Booker T. Washington Theater with his brother, Charles Turpin. Charles Turpin was the first African American to win a public office in a city wide election in St. Louis in 1910. He won the office of St. Louis Constable and was reelected again in 1914. Charles Turpin also owned the People's Finance Company.
"Frankie and Johnny"
The famous "Frankie and Johnny" song was written about an actual event that occurred in Downtown St. Louis in 1899. Frankie Baker shot her boyfriend, Albert Britt, for cheating on her at 212 Targee Street which is now where the Scottrade Center is located. It has been said that within 24 hours of the shooting, the ballad had already been written and was being sung. There are many versions of the song resulting in wording change and the change from the actual name of the victim "Albert" to "Johnny". Frankie was arrested, but her case was determined to be "self-defense" and she was released. Albert died from his wounds four days later while in the hospital.
St. Louis Argus
The St. Louis Argus, a African American newspaper, was founded in 1912 by brothers J. E. and William Mitchell. It still is published on a weekly basis and has an online website as well and is considered one of the oldest African American newspaper in the United States.
NAACP, St. Louis Chapter
In 1914 the St. Louis chapter of the NAACP (National Association for the Advancement of Colored People) was formed.
Shelley v. Kraemer, a Landmark US Supreme Court Case
In 1916, a group of neighborhood associations and Realtors in St. Louis led an initiative for mandatory racial segregation on a block by block basis. Voters passed the Segregation Initiative by a 3 to 1 margin. However, the Supreme Court ruled the initiative unconstitutional and it was struck down. That did not, however, stop segregation in St. Louis. White separatists responded by placing 50 year covenants on individual properties that forbade the sale of the home to persons who where not Caucasian. In 1939, J. D. Shelley and his family were sold such a property at 4600 Labadie in The Greater Ville Neighborhood by an African-American Realtor, James T. Bush, Sr. White neighbors across the street, Louis and Ethel Kraemer, filed a lawsuit against them to keep the Shelley family from moving in. James T. Bush, Sr. hired an African American lawyer, George Vaughn, to represent the Shelleys. The case went all the way to the US Supreme Court. In the landmark case, Shelley v. Kraemer, the US Supreme Court ruled in its 1948 decision that such covenants that limited ownership of property because of race did violate the 14th Amendment of the Constitution. The Shelley House is now a National Historic Landmark and listed on the National Register of Historic Places.
1917 Aluminum Ore Riots
In response to the Aluminum Ore race riot in 1917 in East St. Louis, as well as 18 others that occurred form 1915 to 1919, the St. Louis chapter of the Urban League was established in 1917. The League was a multi-racial group of citizens whose mission was to expand opportunities for the many African Americans that had come to St. Louis, an estimated 60% increase over the previous decade. The League also set out to improve relations between the races in St. Louis.
Homer G. Phillips Hospital
Homer G. Phillips Hospital was open in 1937, six years after its namesake, Attorney Homer G. Phillips, was murdered. Homer G. Phillips pushed for a hospital to be built for the Black community of St. Louis. This hospital would treat black patients as well as provide training in medical techniques for black doctors and nurses. It was built with funds from a 1922 Bond Issue that Homer Phillips spearheaded, as well as Federal Grants. The hospital closed in 1979 due to the lack of funding. The building was redeveloped in 2001 into the Homer G. Phillips Senior Living Community. Located in The Ville Neighborhood, the building has been designated as a St. Louis Landmark and is on the National Register of Historical Places.
Harris-Stowe State University
Harris-Stowe State University was created in 1954 when Harris Teachers College and Stowe Teachers College were merged. The two colleges were doing the same job up to that time, training future elementary school teachers for the St Louis Public school system. The difference was that Harris Teachers College was for whites only and Stowe Teachers College was for blacks only. The two colleges were merged in 1954 by the Board of Education of the St. Louis Public Schools as one of the first steps to integrate the school system. It was originally named Harris Teachers College but changed its name to Harris-Stowe Teachers College in recognition of the request made by the Stowe Teachers College alumni. The college eventually was admitted to the State system of higher education in 1979 and then in 2005 it was given "University" status. The University has many of its classes in what was the first Vashon High School building.
Photo Gallery for African American History - click thumbnails

Annie Malone Childrens Home

The Elijah P. Lovejoy Monument in Alton Illinois

Harris-Stowe University

Scott Joplin House State Historic Site

The Old Courthouse in St Louis

Sumner High School

Rocky Fork, New Bethel AME Church in Godfrey, founded 1863
Do you have a photo for African American History? Send it to us!
Submit Your Photo
Events in St Louis History
St Louis Missouri Real Estate For Sale
Homes For Sale:
14145
Condos For Sale:
1145
New Construction For Sale:
646
Commercial For Sale:
2386
Acreage For Sale:
1746
Multi-Family 5+ For Sale:
96
Multi-Family 2-4 For Sale:
410
Lots For Sale:
4516
Total Properties For Sale:
25090