St. Louis Area Recreation
Do you like to ride bikes? How about snow ski? Is a round of golf your idea of the perfect day off? Do you enjoy bowling or a game of pool with friends? Maybe a picnic in the park with the whole family that includes a friendly game of horseshoes is a perfect way to complete your weekend. What ever you like to do during your free time, the St. Louis Metro area offers a wide variety of recreation opportunities.
Uniquely St. Louis Recreation
St. Louis has some unique recreation opportunities. Usually when you think of snow skiing, you might first think of ski resorts in Colorado or Utah. But wait a minute, St. Louis has its own ski resort, Hidden Valley Ski Resort , that is nestled in the hills of Wildwood Missouri. Hidden Valley features over 30 acres of skiable terrain with a 310 foot vertical drop and doesn't have to wait for Mother Nature to provide snow. They have the capacity of making their own snow for 100% coverage. Another unique recreation opportunity is the Katy Trail State Park, the "rails to trails" biking trail in Missouri. It is 237 miles long and runs from Machens near Portage Des Sioux Missouri at its east end, all the way to Clinton Missouri at its west end. There are dozens of towns or trail heads along the route with several trail heads located in St. Charles County. Those trail heads include one in Frontier Park in Historic St. Charles, one near Weldon Spring, one in Defiance, another in Matson and one in Augusta.
The Float Trip!
The many smaller rivers near the St. Louis area provide a favorite summer recreation that is unique to the area, the float trip!! Steelville Missouri, nicknamed the "Floating Capital of Missouri" is located near several of the smaller rivers and creeks such as the upper Meramec River, the Huzzah Creek and the Courtois Creek , which are excellent waterways to float. Many "river resorts" are located on those rivers and creeks and provide canoes, rafts or kayaks to rent. Most have buses that take floaters to "put-in" locations on the rivers and then will meet the floaters later in the day down the river at the "take-out" locations. Some of the resorts also provide camping opportunities with cabins, trailers or campsites to rent for a night or for as long as you want.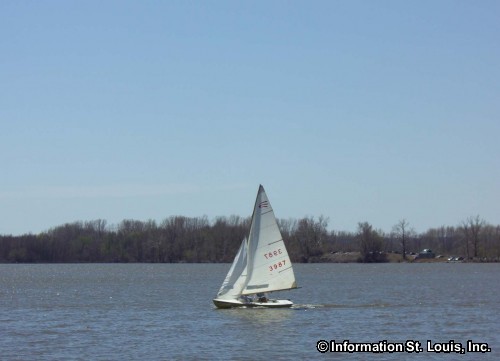 St. Louis Metropolitan Area Parks
There are hundreds parks in the St. Louis area, some are large with many of acres of park land and some are small with only a playground and picnic table. Each of the counties and cities in the St. Louis area have their own system of parks. St. Louis County alone has over 40 parks sprinkled throughout the county. Those county parks provide many amenities such as camping, fishing, boating, hiking, biking, athletic fields and picnic opportunities for residents and visitors. Some of those parks include Creve Coeur Lake Memorial Park with its 320-acre natural fishing and boating lake in West St. Louis County. Broemmelsiek Park is located in St. Charles County and features an astronomy viewing area and hosts monthly "Stars of St. Charles" viewing sessions. Cliff Cave Park, located in South St. Louis County offers qualified explorers access to the cave that gives the park its name. Located near Eureka in West St. Louis County is Lone Elk Park which is a wildlife management area and is home to bison, wild turkey, water fowl, elk, and deer. The World Bird Sanctuary is also located with in the park.
Missouri State Parks and Historic Sites
There are also several Missouri State Parks and Historic Sites that can be found within the immediate St. Louis area. History buffs will enjoy the State historic sites which include the Scott Joplin House in the City of St. Louis and the First Missouri State Capital in Historic St. Charles. Some of the State Parks in the area are Babler Memorial State Park in Wildwood, Castlewood State Park in Ballwin, the Edward "Ted" and Pat Jones-Confluence Point in North St. Louis County and the Route 66 State Park in Eureka.
Sports and Recreation Complexes
Other recreation options are found at the many sports and recreation complexes and community centers located within many communities. These complexes provide fitness centers, swimming pools, basketball courts, soccer fields, ball fields, ice and roller skating rinks, facilities for classes and more. The St. Peters Rec-Plex is one such recreation complex which not only features weight rooms and work out facilities but also features an indoor aquatic center, a 50-meter competition pool and diving well, 3 NHL-sized ice rinks, a food court and more! Other recreation complexes in the St. Louis area are The Lodge located in Des Peres, The Heights in Richmond Heights, The Pointe at Ballwin Commons in Ballwin, The Center of Clayton in Clayton, RiverChase Recreation Center in Fenton, the Ozzie Smith Sports Complex in O'Fallon Missouri, the Family Sportsplex in Belleville Illinois and many others.
The St. Louis area has many other recreation opportunities such as hunting, golfing, horseback riding, roller and ice skating, waterparks, disc-golf, sailing and the list goes on! If you want to do something during your free time, St. Louis most likely has what you are looking for!