Great River Road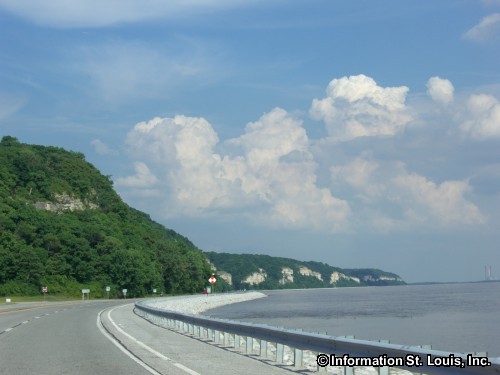 The portion of Great River Road in Illinois that runs from Pere Marquette State Park at the confluence of the Illinois River and the Mississippi River to the Lewis and Clark State Historic Site at the confluence of the Missouri River and the Mississippi River near Hartford Illinois is designated as a National Scenic Byway and is called the "Meeting of the Great Rivers Scenic Byway". Travelers along the route will encounter the historic cities and villages of Grafton, Elsah, Alton, Hartford and others and will enjoy the beautiful scenery along the Mississippi River. The Sam Vadalabene Bike Trail and the Confluence Bike Trail both parallel the route.
Eagle Viewing Spots Along Great River Road
Many places along the Great River Road make excellent viewing areas during the winter for eagle watching. Check out these places to do so: Pere Marquette State Park, the Brussels Ferry landing and the Melvin Price Locks and Dam.
Great River Road
"Meeting of the Great Rivers Scenic Byway"
Runs Between Hartford IL and Pere Marquette State Park IL