Festus Missouri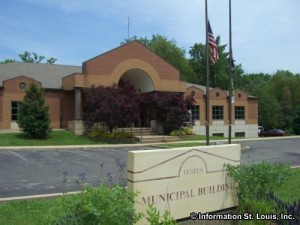 The City of Festus is located in Jefferson County about 45 minutes south of Downtown St. Louis along Interstate 55. Important roads for Festus are Mill Street, North 5th Street, Interstate 55, Main Street, Truman Road/61/67 and many other neighborhood roads. The population of Festus has steadily increased since 1990 and was recorded as having 11,602 residents in 2010. The City of Festus was incorporated in 1887.
Festus Parks and Recreation
Festus has a large park system with seven parks that total 218 acres of parkland. Some of the amenities that can be found at the city's parks are athletic fields for soccer and baseball, pavilions and picnic facilities, playgrounds, horseshoe pits, basketball courts, fishing lake and creek, bike trails, trails and more. A wooded bird sanctuary can be found in Sunset Park. For golf enthusiasts, the Crystal Highlands Golf Club, a public 18-hole golf course, is located in Festus.
Festus Annual Events
Festus has several annual events. The Tri-City Firecracker Festival is held at West City Park on the last weekend in June and jointly sponsored with Crystal City and Herculaneum. It features carnival rides, entertainment, games, food and more. Another annual event is the Twin City Days that is celebrated with Crystal City in September and features special events in both cities.
Festus Schools
The residents of Festus are served by the Festus R-6 School District. The district has an elementary school, an intermediate school, a middle school and Festus High School. There are several private schools also in Festus, St. Pius X High School, Twin City Christian Academy, K-12th grade and Our Lady Catholic School with grades K-8th.
Festus Memorial Airport
The city owns a small airport, the Festus Memorial Airport. It is located about 2 miles south of the city and serves the surrounding Jefferson County.
Festus Missouri City Hall
711 West Main
Festus, MO 63028
636-937-4694

Police (non-emergency): 636-931-3646
Fire (non-emergency): 636-937-3646
Parks and Recreation: 636-937-6646
Chamber of Commerce: 636-937-7697
Festus Public Library: 636-937-2017

Festus Missouri Related Links:
Photo Gallery for Festus Missouri - click thumbnails

Festus High School

Festus Memorial Airport

Festus Memorial Airport

Festus Missouri City Hall

Festus Missouri

Streetview of Festus Missouri

Festus Missouri

Festus Missouri

Twin Cities Monument-Festus and Crystal City

Welcome to Downtown Twin Cities!

St Pius X High School
Do you have a photo for Festus Missouri? Send it to us!
Submit Your Photo
St Louis Missouri Real Estate For Sale
Homes For Sale:
14080
Condos For Sale:
1136
New Construction For Sale:
658
Commercial For Sale:
2368
Acreage For Sale:
1729
Multi-Family 5+ For Sale:
98
Multi-Family 2-4 For Sale:
417
Lots For Sale:
4502
Total Properties For Sale:
24988