Des Peres, Missouri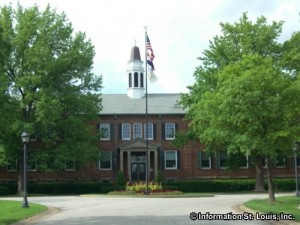 The City of Des Peres, Missouri is located in Mid and West St Louis County being located both east and west of Interstate 270. The city was incorporated in 1934 and has had a stable population in the last 20 years. Roads that are important to Des Peres are Manchester Road, Interstate 270, Ballas Road, Des Peres Road, Dougherty Ferry Road, Bopp Road and many other neighborhood streets.
Des Peres Landmark-City Hall
The Des Peres City Hall is located in a St. Louis County Landmark, the Lutheran Orphan Home. The orphanage was established in 1868 to meet the needs of children who were left as orphans after the Civil War. The present building was the third building erected 1936 because the second one was destroyed by fire. The Lutheran Orphan Home closed in 1966 and the City of Des Peres purchased the building in 1973 to be used as the city hall. The 40-acres that surround the city hall that were once the grounds of the orphanage, are now the grounds of Des Peres Park-the crown jewel of the Des Peres Park system.
Des Peres Parks and Recreation
Des Peres has five other city parks, Bittersweet Woods, Harwood Park, Phantom Forest, Pioneer Park and Sugar Creek Park, and a community center-The Lodge. The parks total over 100 acres of park grounds that feature fishing lakes, athletic fields for baseball, softball and soccer, lighted tennis courts, trails for biking, jogging and fitness, picnic facilities, playgrounds, conservation areas and nature trails, seasonal play fountains and other amenities. The Lodge Community Center features indoor and outdoor pools, a gymnasium, a fitness center and several meeting rooms.
Des Peres Schools
The residents of Des Peres send their students to schools in either the Parkway School District or the Kirkwood School District depending on where they live. In the Parkway School District, students would attend the Parkway South High School. St Paul's Lutheran School is a private Pre-K through 8th grade school located in Des Peres. The school is part of St. Paul's Lutheran Church which has been at the same location, the northeast corner of the intersection of Manchester and Ballas Road, since it was established in 1849.
Des Peres Businesses, Shopping
Des Peres is home to several corporate headquarters. Edward Jones has its corporate headquarters located on Manchester Road, just east of Interstate 270. For shopping, West County Shopping Center is a major mall located in Des Peres with Macy's, Nordstrom, Dick's Sporting Goods and JCPennys as its anchor stores. Manchester Road is also full of retail shopping opportunities, as well as restaurants and other business. Des Peres Hospital is also located within the city at the intersection of Dougherty Ferry Road and Interstate 270.
Des Peres Missouri City Hall
12325 Manchester Road
Des Peres, MO 63131
314-835-6100