City Museum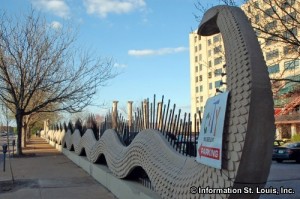 Explore the unexpected at this exciting museum for children and adults. Air, science, history and fun are woven together in this one-of-a-kind downtown attraction that includes a waterfall and crab pond; the Enchanted Caves; Art City; 4,000 square feet of man-made caves and tunnels; an Enchanted Forest with sky tunnels overlooking fish and turtle dwellings in a giant aquarium; a working shoelace factory; a collection of artisans who might be weaving, throwing pottery, blowing glass, or performing magic; and circus performances by the everydaycircus troupe. Dining is available on the premises. Admission is charged.
World Aquarium Within City Museum
A fascinating exhibit at this ever-changing facility is the World Aquarium at City Museum, featuring all sorts of hands-on exhibits and interactive programs. Visitors can pet sharks and stingrays, touch starfish, crawl through waterfall displays, play in a giant sand-castle beach, and learn about the world's aquatic ecosystems among the giant shell columns and jumping jets of water that make you feel like you're swimming or flying through the exhibits. Note: There is an additional admission fee to visit the World Aquarium.
City Museum
701 N. 15th St
St Louis, MO 63103
314-231-2489