Missouri Baptist University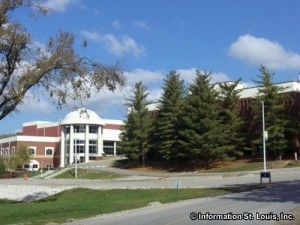 The Missouri Baptist University is located in Creve Coeur Missouri. It is a private, evangelical Christian liberal arts university with undergraduate and graduate degree programs. The University has a sports program and is a member of the NAIA and the AMC.
Missouri Baptist University at a Glance
Type of School: Private, evangelical Christian, liberal arts institution of higher learning
Undergraduate: 4 year, 40 majors
Number of Undergraduates: 4600
Graduate: Accelerated, Full or Part-time, completed in 18-24 months, several locations, 7 degree programs
Mascot: Spartan
Sports: NAIA (National Association of Intercollegiate Athletics) and AMC (American Midwest Conference): Baseball (M), Basketball (M,W), Cross Country (M,W), Golf (M,W), Soccer (M,W), Softball (W), Tennis (M,W), Track & Field (M,W), Volleyball (W), Wrestling (M,W). CLUB: Bowling (M, W), Cheerleading (W), Lacrosse (M, W), Volleyball (M), Wrestling (W).
Missouri Baptist University
One College Park Drive
St Louis, MO 63141
314-434-1115